Exclusive Tool Empowers the BHGRE Network to Find the Right Clients with Rich Customer Profiles, Customizable Geo-Targeting and Predictive Analytics within a Fully Responsive, Mobile Environment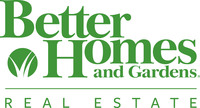 Better Homes and Gardens Real Estate LLC, a leader in lifestyle real estate, announced today the relaunch of PinPointSM, its exclusive predictive marketing tool that has been central to the brand's strategy and unique positioning since its launch a decade ago. With this relaunch, Better Homes and Gardens® Real Estate agents and brokers can more effectively target audiences amongst Meredith Corporation's more than 175 million consumers with precision thanks to enhanced targeting to brand-loyal consumers, and expanded personalization of campaigns ranging from listing-specific to broader prospecting strategies. These features are available in the tool's new fully responsive, mobile environment, which enables BHGRE® users to showcase and execute campaigns anywhere their business takes them.
"Relaunching PinPoint during a milestone year for BHGRE is fitting because it represents how our brand—and the real estate industry—have evolved, the ability to effectively target consumers beyond traditional demographics in a mobile-first, responsive tool brings our network an unparalleled advantage in marketing. We couldn't be prouder of the new Pinpoint tool, the impact it will have on our network, and of the continued innovation in its future."

Sherry Chris, president and CEO of Better Homes and Gardens Real Estate.
PinPoint capitalizes on the scale and scope of Meredith's audience and the rich understanding of consumers' life stages, interests and intent. This understanding comes from consumers' interactions with Meredith's leading lifestyle brands and publications including its flagship media brand, Better Homes & Gardens®. PinPoint offers users the ability to target consumers who are more likely to have an ongoing relationship with the Better Homes & Gardens media brand and other sister publications. Predictive attributes and proprietary research help PinPoint become a more intelligent way to target consumers who may be in the homebuying and selling market.
Enhanced features include:
A mobile-first design that is fully responsive for cell phones, tablets and desktops. This gives users complete freedom to use the tool on-the-go, at the listing presentation, and anywhere they need to create and demonstrate smart marketing campaigns.
The flexibility to target consumers from broad to precise geographic areas. Users can select states, cities, zip codes, and specific radiuses against those selections. Users can draw on area maps to target locations as customized as housing developments, streets, portions of neighborhoods, and even specific buildings. This mirrors the way real estate professionals work as they prospect in the real world.
The ability to further personalize efforts through enhanced attributes, with customer segments such as "First Time Home Buyer, No Kids," "First Time Home Buyer, With Kids," "Move-Up Buyer," "Empty Nester," "Mature Mover," "Premier Consumer," and "Second Home Buyer." Through these campaigns, users can not only identify well-matched buyers for a current listing, but can open the door to representing these buyers' homes for sale through the new relationship.
The power to generate comprehensive, eye-catching market reports showcasing a campaign's reach within geographic areas and demographic segments tailored specifically for a listing, or for an agent's or team's prospecting strategy.
With this announcement, agents and teams will have a new way to deliver value to their sellers, and to prospect more effectively as they build their business. Brokers will be able to showcase the tool and its flexible, effective data to help recruit new agents to their companies in a more personalized way.
The redesigned PinPoint tool joins a comprehensive suite of benefits for members of the Better Homes and Gardens Real Estate network such as national advertising, digital advertising, productivity and skill learning, social media, marketing and communications resources, and content and tools to more effectively connect with consumers.